Turnover growth 2014-2020 in million euros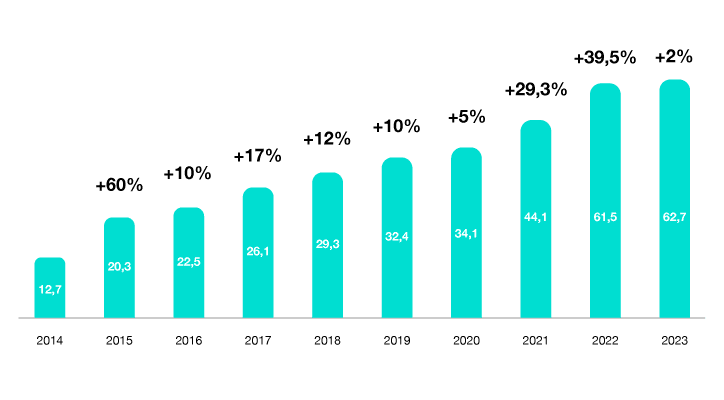 Our job
Bilendi is at the epicentre of research sector by providing data collected on the internet to market researchers. They base their analyses and advices on this data, which is at the origin of all decision-making in companies, governments, institutions.
This fast-growing business sector accounts for around € 1.5 billion euros worldwide, 40% of which is in Europe (1)
Bilendi's clients include research institutes, consulting firms, media agencies, universities and research centers, and major advertisers.
From 12 proprietary panels in Europe and more than 2.2 million panelists, a network of partners for the rest of the world, Bilendi carried out more than 14,000 projects in 2020.
Our teams are made up of 252 technology and data specialists. Our 12 sales offices allow us to be as close as possible to our 1,100 customers.
(1)Source Esomar, estimation Bilendi
Our strategy
Bilendi's strategy is to be the leading European player, it benefits from 3 key competitive advantages:
Size and quality of our proprietary panels
Innovative technologies
Local approach to integrate the specifics of each European market
The group's development was achieved through strong organic growth supported by technological and commercial investments, combined with strategic acquisitions.